김광선 (Kim Kwang Sun)
띠와리 교수님은 내게는 참 좋은 친구였습니다 네루 대학원 사회학과 M.Phil 과정 입학하여 공부할 수 있도록 안내해 주었고 Ph.D 를 잘 마칠 수 있었던 것은 띠와리 교수님의 끊임없는 격려 덕분이라 믿습니다 우리는 오랫동안 한 가족처럼 지냈고 지금은 고인이 되었지만 여전히 우리는 가족으로 지내고 있습니다 
Professor Tiwari was a very good friend of mine. He helped me a lot during my admission in M Phil in JNU and helped me during my PhD as well. And thanks to his encouragement that I could finish my PhD well. We have had a family like relation from a very long time. Though he is no more with us we are still keeping that family like relation. 
AMIT MUGDIL (CERAGEM)
Dear Sir  
You have worked so hard in shaping me and faith in me. So today I am where I am standing is all because of you. I thank you for being such an amazing teacher. I feel so fortunate to have You. You have amazed and inspired me daily and for that, I am thankful because you were truly a wonderful teacher. You will be Missing dearly Sir and will always remain in my deep heart.
Ranjeet Kumar (JNU 2004-07)
A father figure, a local guardian, practical teacher, confidence building teacher for students like me from small town in Bihar, having no Knowledge of English/Korean, no confidence at all.  
During one of the students visit to LG, he questioned my silence, less participation during Q&A round. Post that I was visible everywhere and could gain numerous achievements. 
During our JNU days we had in our mind that Tiwari Sir is watching all the time which kept us alerted and prevented us to get indulged in any unnecessary activities.  
His teaching style was so perfect that we never felt low in confidence and had a belief that we could also do better in study and life which became so true. 
We miss you a lot sir and hope that god gives the strength to family to do well and prosper.  
Prof. Sushama Jain
A good teacher "facilitates thinking, engages minds, listens to all questions, cultivates dreams……learns everyday".
Dr. Dilip Tiwari had many of these qualities and skills, which are requisite of a good teacher. I was fortunate to have known Dilip first as a teacher, and later as his provost when he was a warden at a hostel of JNU. He taught Korean and I, Japanese in School Of Language, Literature and Culture Studies, JNU. We were one centre in those days (later, Japanese and Korean centres bifurcated). He was one of the pioneers in the field of Korean studies. He made significant contribution to the development of the Korean language teaching at JNU through his scholarship and his teaching. His understanding of the subjects he taught and the issues of students made him a successful teacher. Besides being a dedicated teacher, he was a committed research scholar. 
It was as the provost that gave me an opportunity to know him more closely. We listened and tried to solve together all sorts of problems of hostel residents. As a warden, he proved to be a helpful, considerate, kind and gentle person, he always found time for the residents. 
Dilip had made a brilliant start but tragically, such a talent had been taken away so quickly.  He was a cherished colleague and a caring family man. My thoughts and best wishes have been and will always be with his family in all their academic and personal pursuits.
Reminiscing Tiwari Sir!
Dr. D K Tiwari or Tiwari Sir as we dearly called him, was nothing short of an institution.
He was one of my first teachers of Korean at JNU. My first impression was that he had a very enthralling personality. He looked strict yet very calm and composed, very knowledgeable yet easy to approach and less talkative yet clear in thoughts. He was one of those teachers whose lessons you would remember for life. He made learning easy and interesting for his students.
He was also a very observant teacher and understood his students pretty well. He would try to maintain and ensure all students followed the lesson at pace. If any student tried to outsmart his peers he would find fun ways to put them back in place. I would like to share a funny anecdote here.
I remember sitting in my first year BA (hons.) class, we were practicing basic grammar and vocabulary. Tiwari Sir had asked us to translate simple sentences to Korean. Sentences like राम स्कूल जाता है, or रवि फल खाता है etc. These were simple sentences with simple vocabulary like स्कूल, फल, जाना, खाना etc. that we had memorized during our first few lessons. Turn by turn every student was asked to translate a sentence. There was a front bencher who kept raising his hand every time Sir gave a sentence. He was obviously trying to impress Sir and outsmart all other students. Sir noticed his eagerness but stayed calm. After a few rounds, Sir finally walked up to him and gave him a chance. He was of course very confident and got excited. Then came the sentence, मोची जूता सीता है. The student went blank. This was out of syllabus. We all giggled.
This episode taught us an important lesson. 'Humility is a virtue'. Just as it is important to gain knowledge it is equally important to stay humble.
He was a great scholar and educator who inspired me and helped me to inculcate some of his methods of teaching in my classroom.
We all miss him at CKS!
SATYANSHU SRIVASTAVA
Totally humane and family man
Immediately after joining JNU as a teacher I was in great need of guidance not only professionally but also at personal level. Dr. Tiwari has helped me a lot in both lives. Especially he had helped me a lot in driving a new car. He used to be available for any kind of help. Now though he has left us physically, I can see same kind characteristics in his sons. Thank you Shivam Beta for giving me this opportunity to share my nice memories
Ajoy Karnati
NITIN KUMAR 2003~06
When travelling to unknown roads, you always wish to find someone who can put you in the right direction and one such influential person was our Professor Dilip Kumar Tiwari, whom we fondly call Tiwari Sir. While teaching us in Bachelor classes, he always shared his own life's lessons and that has a huge impact on my life and career. One such example is that he always emphasized on improving our English language skills rather Korean which was our major and we realise it today what he meant then. He knew us all and which background we came from and always showed us the path that will establish us as a successful professional. He may not be with us today but his blessings will remain with us and we will always cherish beautiful memories that we shared with him. Rest in Peace, Sir!
NITIN KUMAR
A humble man of great stature
I shall always remember him as a man who was connected to his deep roots while he grew very very tall in stature. For someone like me who shares his rural background, I used to look up to him as someone who had made us all proud. I had seen him teach at JNU and had also seen him interact with people at our native place. He was a blend of suave credentials with raw desi style. How well he used to inspire us is a great testimonial to this saint-like genius. My Pranam.
Mrinal Mohan
His letter from Korea.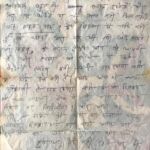 One day I got his letter from Korea. He was bit angre on me because due to some reason I couldn't delivered his letters to his addres. The same day I collected all his letters and delivered before he come to Baswariya. Because I knew that I won't be able to stand in front of him when he would come(haha).
Remembering him through special memories together. He left the void in the heart. I will always love you for eternity. What can I say about him, a free-spirited, talkative and incredible bright, who brought so much love and goodness into my life. He was pride and inspiration for me, I thank the universe for giving me this opportunity to know him. He truly loved and cherished every single one of his owns.
Even when I was going through a difficult period, you stood with me and taught me that life should be lived with zest. You always guided me in those times. My last meeting with you was at JNU and I would always remember your every words.
– I Miss You
Subodh Kumar Dwivedi
एक ऐसे इंसान जिनसे मैं
एक ऐसे इंसान जिनसे मैं कभी नहीं मिला हूँ, लेकिन उनके बारे में सुना बहुत कुछ हूँ, और अभी उनके दिखाए रास्ते पर या यूँ कहें कि उनके बनायें रास्ते पर चल रहा हूँ, इस रास्ते पर चल कर ना जाने कितने लोगों ने क्या क्या मुकाम हासिल किया है। मैं उनकी बात कर रहा हूँ जिन्होंने भारत में कोरियाई भाषा की नींव रखी, मैं बात कर रहा हूँ डॉ. डी. के. तिवारी सर की। यहाँ उनकी कुछ यादगार लम्हों की तस्वीरें हैं कुछ यादगार बातें हैं। ये बातें मैं अभी भी अपने शिक्षकों से सुनता हूँ। और कोटि-कोटि नमन करता हूँ उनको की उन्होंने एक ऐसा रास्ता बनाया जिसपे आज कई लोग चल रहे हैं।
धन्यवाद सर, हमें ऐसा उपहार देने के लिए।
Rahul Kumar (student of Mukesh sir and MA student of cks)
Sir! You will always be in our hearts ❤️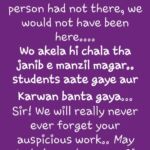 I do believe if this intellectual person had not there, we wouldn't have been here. Somebody has rightly said that
" Wo akela hi chala tha janib e manzil magar,
Log (students) aate gaye aur Karwan banta gaya".
Sir! We will absolutely never ever forget what you did for us to embellish our future in your short and flawless period.
May God always keep you Sir in peace 🙏
RAHMAT E ALAM
tribute to our dear sir
दिन चढ़कर ढल जाता है,
फिर चारों ओर अँधेरा लगता है,
दुनिया मुस्काती इठलाती है,
पर कुछ सूना सा लगता है,
हम बैठे हुए हैं किनारे पे,
पर पीछे सहारा लगता है,
ख़ामोशी भी कुछ कहती है,
सुनकर प्यारा लगता है,
आप हो भले हमारे पास नहीं,
पर एक साया सा लगता है,
कहानियों का दौर चलता है,
ज़माने का नजरिया बदलता है,
उन पुरानी यादों में कुछ ठहरा सा लगता है,
याद है लोगों को वो गुजरे पल,
उन्हें जीना अच्छा लगता है,
आप हो भले हमारे पास नहीं,
पर एक साया सा लगता है।।
prashant kumar
Professor Tiwari in my memory
I've known Professor Tiwari for 20 years. When I first met him 20 years ago, Professor Tiwari mentioned his relationship with Korea.
When he lived in Korea, he said that Korea experienced rapid economic growth in the 1970s after the Korean War.
Professor Ttiwari, who I know, has always been a person who thinks about the future of India.
I remember what he said in the 1960s that India was a train exporter to Korea, and that India should become an economic power.
In my personal opinion, India is a country with many talented people.
I'm glad that Professor Tiwari's son, whom I saw 20 years ago, grew up great.
I'm still going to India for business, and I'm getting along with Professor Tiwari's family.
I hope that Professor Tiwari's son will play a big role in the development of India.
Thank you.
SUH JUNG ROK
उनकी हूबहू छवि
आज इस वेबसईट पर एक नजर डालने का मौका मिला तथा इसी के साथ मन हर्ष से प्रफुल्लित हो उठा । जैसे एक अन्वेषी राही नदी का उद्गम स्रोत खोज निकालता है और जनसामान्य के सम्मुख प्रस्तुत करता है ,उसी प्रकार एक सुपुत्र ने भी अपने पिता के प्रति कृतज्ञता रखते हुए उनके कृत कर्मो को विश्व के सामने प्रस्तुत कर ही दिया मैंने उनको तो कभी नहीं देखा परन्तु यह अवश्य कह सकता हूं कि वे जहां कहीं भी है सुखी है क्यूंकि मुझे शिवम में एक छोटे तिवारी जी की छवि दिखती है । वह अपने पिता की तरह दूसरों की निस्वार्थ भाव से सहायता करता है , हमेशा प्रसन्न रहता है तथा सदा अपने परिवेश को भी प्रसन्न रखने की कोशिश करता है , अच्छे व सच्चे मित्र बनाता है, कभी भी दूसरों को कोई कमी महसूस नहीं कारवता, सदा दूसरों के मुसीबत के समय काम आता है , तथा अपनी मुसीबत के समय पर्वत की तरह अविचल भाव से अडिग रहता है। एक बाप को खुश होने के लिए और क्या चाहिए । अपितु मै तो यहां तक कहूंगा कि शिवम को देख कर ऐसा लगता है कि जैसे कि D. K. Tiwari जी हमारे बीच से कभी गए है नहीं
Ravi kant
We have nothing but great memories of you Sir
Sir is and will always be a part of our good memories. Graduating days are the formative years of one's life and I am glad that we had the luck of being in the crafting hands of Tiwari sir in those days. In the short span (it will always be short no matter how much time we spent together) we spent with him, we shared a lot of memories but most importantly we learned life lessons.
Now that I professionally strive to do what he so effortlessly did, I remember these three lessons that he taught us through his actions:
1. Lessons are not memorised. They are learnt by repetition. You don't repeat things enough and it will gradually fade out of your memory. Everything sir taught us is still fresh in my memory. The repetitive usage of the lesson undoubtedly seemed monotonous to us as students. But now as we look back, we realise that we haven't forgotten anything that sir taught us.
2. The betterment of the institute is much more important that your own profiteering. We have all known how sir has fought for the institute without bothering about how it will hamper his own reputation in the eyes of the mighty and powerful.
3. Your ego and the students' welfare are two completely disconnected things and should remain in two parallel worlds. They should not meet at any point of time. Students' welfare was sir's top priority and we have learned that not through his words but through his actions. Everytime I do something for my students, deep down I know that this is a legacy that has been passed on to me by sir.
Sir, we do not mourn, we smile back at all the memories and all the life lessons that you gave us. I feel there cannot be a better gift for the person who wore a smile on his face, always.
THANK YOU SIR.
Kunal Anand
Tribute to Sir
वो सामने तो ना थे मगर उनका साया जरूर था,
उनका हाथ थामा तो ना था मगर एहसास जरूर था,
आगे तो हम बढ़ चले है मगर उनका साथ रहना भी जरूरी था।।
Ankit Kumar
Dr. DK Tiwari
I know (Dilip) Tiwari Sir as one of the pioneers of Korean Studies in India. He was truly an outstanding teacher and a good human being. His passion for teaching and for promoting Korean language in India was tremendous. He commanded respect from the students as well as colleagues across disciplines. He was always ready to help the students not only academically but personally and financially also. I fondly remember his smiling face and his humour which were the true reflections of his positivity and his inner self.
Even he is not present in this world now, but I am sure he would be happy to see the growth of Korean Studies in India which he had nurtured so passionately. I, on behalf of the Centre as well as on my own behalf, pay my utmost respect to him. I congratulate all his well wishers for taking up this meaningful initiative to treasure his memories.
Ravikesh
Professor & Chairperson
CKS, SLL&CS
Ravikesh
A great friend
A wonderful friend who was always cheerful and jovial. Very helpful and who struggled to reach to the height on his own merit. His loss was a great loss for us at such an early age. We always Cherish his memories and will always be there. Special mention of Pushpa who faced the great loss with courage and carried his legacy forward and handed over the baton to the next generation. God Bless them in fulfilling their dreams.All the best.
Navin Singh
Kameshwar Kumar Rai
Dilip I remember is the one whom I knew from our school days in Bettiah, an ever-smiling chum with a strong sense of humour. Despite several difficult phases in life, he would remain his jovial self. He left too early leaving a void for us. It is often said people don't leave, they just get etched in our memories. He is with us in our memories.🙏🙏
Kameshwar Kumar Rai
My Dear 교수님!!
"Next to parents, teachers may be the most influential figures we'll ever have in our lives."
These lines truly I would like to dedicate to My inspiration, my mentor & My God Prof. DK Tiwari,
Sir, There are lots of things to tell here on your salutation and greatness, but the truth what I admire the most is.. there would have no future of me without your guidance… Thank you for making me valuable under your excellence.
WE ALWAYS MISS YOU & LOVE YOU…
DEEPIKA KAPOOR
A Father figure for me & BackBone of family.
" दिल्लीपप्पा (lovingly) " I used to call in my childhood.
You were the first member of my family who reached to the peak of the your carrier and till then no one succeed like you in my family. U thought us to learn many lessions about diligence , hardwork, and patience to thrive gain and achieve dreams.
I couldn't spend so much time with you & dadaji that I really repent so hard.
When I recall your memories, I remember those days( 2001 — 2004) when mobile phones were barely used by anyone,you had one heavy Nokia mobile phone. Papa would took me & my sister to pipal chowk at PCO for calling you at about 8 pm on weekends  . He would call you for max 3 – 4 mins (because those days calls charges were high) to tell you all bulletins of baswariya and get your all your updates. At the end papa passed receiver to me & babli for pranam and you always blessed with 'khush raho" , "mann se padho" like words .
One day, You told us, "I are coming in december". I took long breath and hesitancy requested for"SHIVAM'S BLUE CYCLE "  and he without any thought, said "ha ha lete aaunga".
And you brought us that cycle.
Every one was happy in bettiah except SHIVAM(haha).
There are many stories about you I always listen here. I remember some of them
:-
1. In your childhood you & my papa went to Dr Dada ji's meeting without clothes and said that we had not clothes. Dadaji bought you new clothes and the sent both of you back to home .
2. Second one is chai story. You had told dadaji that keep chai in your pocket you would consume it later. Lovely talk is dada ji kept chai in his pocket. He never thought about clothes & your sillyness that ware very lovely.
3.Third one in dipawali you arrange movie name "RAMLAL JHAMLAL" for 2 paisa/per person etc. & After collecting all money you and all siblings enjoyed Dipawali.
There are many of stories but I tried to collect some of them .
At last I would add one more thing that I learnt from you to live a life with focused, down to earth, and simply full the purpose of life.
You are not with us, you left us too early
That's not fair dilli papa . But I internally miss you .
Your as like son ,
Vicky.
AKASH KUMAR -(Vicky)
An Elder Brother, A friend
I have unforgettable memories of the time spent with Mr D.K. Tiwari who was like my elder brother, it would be rather more appropriate if I say that, he was more than a brother and more than a friend. A friend in the sense that we would exchange all kinds of gossips from rubbish to sensible things of life and elder brother in the sense that he acted like my guardian and showered limitless affections on me. His untimely departure from this world is a great and irreparable loss to me
Ambhoj Kumar Sinha
A down to earth personality
I was a student of Tiwari sir during my B.A.Hons (2002-2005) .
He had a very unique style of teaching. He was extremely quick in identifying the areas of improvement in his students and accordingly he used to change his teaching method. His unique method helped every students to excel in Korean language.
I still remember on 3rd Or 4th day he asked me why I am so introvert ?. And from that day onwards not only he helped me learning lKorean lang but also develop as a better human being.
During a normal conversation we came to know that he was a NCC cadet and was awarded best cadet as well by the president of India. He was so down to earth. Indeed a motivating force…
Vimalkant Dahiya
A mentor, An Elder brother
Dilip Bhai had been our mentor and role model , when we joined JNU . We were feeling intimidated, awed and unsecured , coming from small town of Bihar in Delhi . He taught us to feel confident and face the English rattling students with substance and elan . I remember his words , ' Bring quality and excellence to your learning, form and expression will follow automatically' . He taught us how to draw strength from being together and following one's heart in choosing personal and professional life . We miss you badly, Dilip Bhai . We shall always cherish your guidance and fond memories.
Dr. Amiya Chandra ( Zonal Development Commissioner, Kandla Special Economic Zone)
Beautiful memories working with Pushpa Madam
Honestly I didnt have an opportunity to meet Tiwari Sir, but yes, I work with Mrs Pushpa Tiwari Madam. Learnt lot of Korean words and really a great experience of working with her and her team.
Thank you Pushpa Madam….
Bimal Sharma
In memory of Tiwari Sir
With a heavy heart and teary eyes, I write this memoir for our respected and beloved Tiwary Sir. I could never ever imagine that I would be writing a note in his memory. How could such a cheerful person be alas gone away so soon. It is still hard for me to believe that Sir is no more.
With Sir being gone, I have lost my academic inspiration. Sir's belief in me and his support guided me to achieve milestones that would have been impossible or better said unimaginable. I was a feeble yet confident girl from Bihar with lots of dreams in my eyes, when I had entered JNU in the year 2000. It was Sir's determination and confidence in me that encouraged me later to pursue PhD at Seoul National University and successfully complete it.
He guided me like a teacher, scolded like a father, giggled at jokes like a friend and inspired me like a legend. I miss you, Sir. We all students do!!!
Jawa Jha